iHeart
A finger tip device and mobile app
iHeart was created as a tool to help people to measure Internal age and Aortic Stiffness and therefore realize the personal power they have to change their health and wellness.
Through a non-invasive, 30 sec test, the fingertip device measures aortic pulse wave velocity to determine your level of Aortic Stiffness, as well as your heart rate and blood oxygen levels.
This information then amalgamated to provide you with your internal age, so you can easily see that shape, your internal organs are in.
Arterial Stiffness, and specifically, Stiffness of the Aorta, is an important, one of the early indicators of person's risk for cardiovascular disease.
Book your first iHeart reading
FREE , with any PT or nutrition consultation.
If you are a SomaOmnia client , with every Standard Wellness package you buy, 4 readings are – FREE.
After that – every 4 readings will cost one pt session from the block of sessions you bought .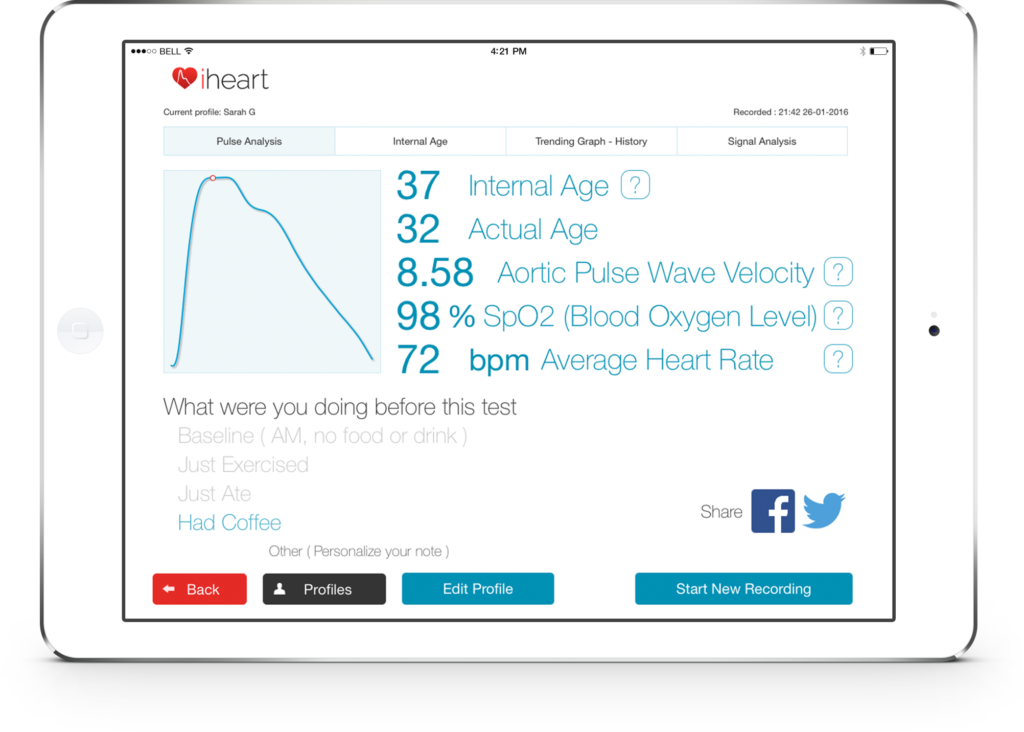 Book your first iHeart reading FREE with any PT or nutrition consultation.
SomaOmnia provides support, help and advice on women's wellbeing, nutrition and training during different stages of their life.
SomaOmnia provides tailored guidance and advice on children's nutrition, allergies/food intolerances support, fitness regime, sports-specific nutrition, training needs and any problematic issues.
Personalised nutrition consultation with a naturopathic nutritional plan , including food and lifestyle recommendations, supplementation, functional, laboratory & genetic test recommendations, ethical wellbeing products.
Become a SomaOmnia member today. Contact Yelena for information and gain access to a wide range of benefits to help you look and feel great.
Book your appointment with Yelena Today